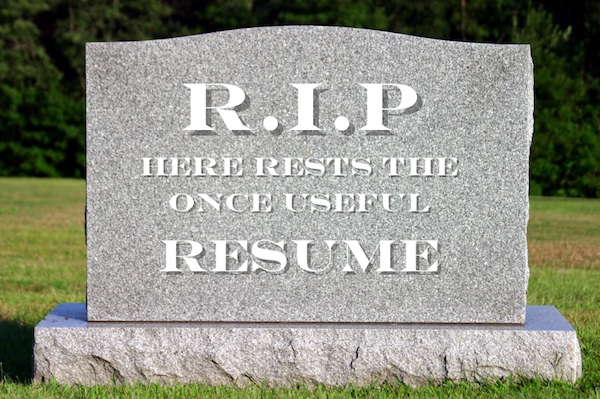 The paper resume isn't dying, it's dead.
Unlike its dynamic online counterparts that capture the diverse and continuosly changing facets of a candidate profile, the static paper resume is inherently always one step behind. Print, revise, print, revise...the paper resume perpetuates an endless cycle of doom.
The anachronistic piece of low technology symbolizes the arduous recruiting practices of days past. While for years the resume has been synonymous with the job search process, newer technology has now taken flight, creating a wealth of opportunities for candidates to demonstrate their rich skill profiles. The old days of analog are on the way out; it's time to usher the new tools of the digital age step into the spotlight.
Social Suicide
As the world of social recruiting continues to mature, candidates increasingly turn online to uncover jobs and explore new ways to establish contact with potential employers. A candidate's social footprint is rapidly becoming the most meaningful method for showcasing knowledge and experience.
The new tools of the trade are fast and flexible:
LinkedIn is no longer a network only for business executives looking to connect with each other; touting over 200 million users, recruiters live and breathe its profiles to source passive candidates and discover top talent.
About.me is LinkedIn's more visual counterpart, enabling candidates to illustrate creativity and connectivity, bringing their qualifications to life with a vibrant personalized page.
Twitter is a playground for the socially connected, providing a wealth of information about a candidate's connections, credibility and engagement with industry influencers.
Vala Afshar, CMO of Enterasys, a social business based in Boston, recently posted a job opening for a social marketer with the company. The headline reads, Hiring A Social Marketer, No Paper Resume Accepted. The post had seen over 900 tweets, 100 Facebook shares, and 100 LinkedIn shares—clearly, Afshar's onto something.
Paper Resumes: The New Fire Kindling
Riding closely on the coattails of the Internet and social media, applicant tracking systems and talent management systems have boomed in the last several years, creating a $1B market size according to Bersin by Deloitte. Providing a centralized solution for a wide variety of recruiting needs, most consume electronic files and crawl the social sphere online. There's no room for paper in the world of ATS solutions.
Big name companies like Walmart, Macy's, Wells Fargo, and Accenture are already using ATS solultions like iCIMS and JIBE, to power the candidate experience from start to finish online. Free and low-cost options are rapidly expanding access to a broad universe of employers. Given the increaing proliferation of new solutions, you might just want to use that paper resume of yours as fire kindling...
A Losing Game
The skills profile section of a paper resume puts the final nail in its coffin. Sure, it's incredibly valuable to understand a candidate's abilities. But anyone off the street can assert that they're proficient at Microsoft Excel on paper, without truly providing any proof.
As the need for specialized skills in the workforce climbs ever higher, it's absolutely essential to hire quality candidates that have the right skills for the job at hand. Skill assessment tools are the scissors that shred the paper resume by quantifying skills for the ulimate insight into a candidate's abilities.
Rock. Scissors. Paper resume...you lose.